Features of 110V Fine Grinding Planetary Ball Mill Machine
Capable of grinding materials in vacuum or inert gas environment with SS jars or SS grinding jacket.
Elegant design, easy to operate
Ideal for wet or dry grinding application
Automatic and programmable control with LED display
Multiple grinding modes to choose
High uniformity and excellent repeatability
Fast rotational speed, high efficiency and fine granularity
Reversing function
Programmable interval and pause times
Four samples with different sizes and materials in one experiment
Stepless speed regulation; ideal rotary speed selection according to experimental results
Large range of materials available for grinding media
Gear-drive offers an effective solutions to problems caused by belt driving, such as belt creep and belt abrasion
Low center of gravity, good rigidity, compact structure, low noise, safe and reliable operation, no pollution and small wear
Cooling of the grinding chamber with a built-in fan for long grinding times
Application Areas of 110V Fine Grinding Planetary Ball Mill Machine
Geology and Mineralogy: rock, gravel, sand, minerals
Ceramics: porcelain, sintered ceramics, clay, fireclay
Chemistry: pesticides, fertilisers, salts, inorganic and organic materials
Biology: plants, leaves, freeze-dried samples
Pharmaceuticals: ophthalmological agents, gels, creams, extracts, drugs, pastes, dragees, tablets
Metallurgy: ores, sinters
Material technology: pigments, precious materials, new materials, alloys, mechanical alloying and activating
Analysis preparation: spectroscopy, X-ray fluorescence, X-ray structure analysis, chromatography
Working Principle of 110V Fine Grinding Planetary Ball Mill Machine
The grinding sample is comminuted by high-energy impacts from grinding balls and friction between balls and the grinding jar wall. Minimum granularity of the final product can be as small as 0.1 micron.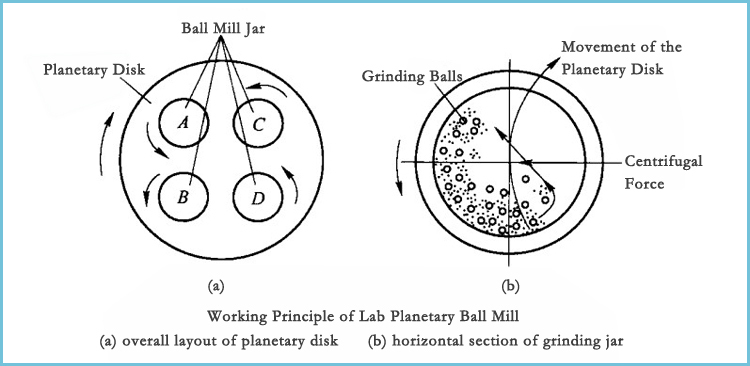 Note: How to achieve finer or desired particles with this ball mill is a research project, which is depended on material to be mill, grinding time and speed, combination of grinding jar and milling ball etc. It is your responsibility to find the best milling procesure based your material. Welcome you come to DECO to do test before purchase.
Technical Datas of 110V Fine Grinding Planetary Ball Mill Machine
| | |
| --- | --- |
| Working Principle | impact and friction force |
| Item No. | DECO-PBM-V-0.4L-110V |
| Compatible Non Vacuum Grinding Jars | (50ml~100ml) * 4 |
| Compatible Vacuum Grinding Jars | 50ml *4, 50ml grinding jars only for vacuum |
| Operation Mode | 2 or 4 grinding jars working simultaneously |
| Feeding Granularity | Soil materials < 10mm, others materials < 3mm |
| Discharging Granularity | down to 0.1μm |
| Sample Type | hard, medium-hard, soft, fibrous, brittle, moist |
| Rotational Speed of Grinding Jar | 1100rpm |
| Rotational Speed Ratio (planetary disk/jar) | 1 : -2 |
| Drive Mode | gear drive and belt drive |
| Speed Control | stepless speed regulation |
| Electrical Details | 110VAC, 60Hz, 0.25KW |
| Max Continuous Grinding Time (full-load) | 72hours |
| Weight (Net /Gross) | 30KG /40KG |
| Dimension (L*W*H) | 502*300*298mm |
| Package (L*W*H) | 570*370*370mm |